From desi chulas to automatic ignition ones, gas stoves have surely come a long way making cooking a lot easier and safer. However, with a wide variety of gas stoves now available in the market, not all of them are the same. If you think gas stoves can just be picked based upon the number of burners you wish for, you're certainly wrong!! Gas stoves differ from each other in terms of durability, performance, reliability and aesthetics.
So, how will you make the perfect choice for yourself? Don't worry! I have made it easier for you by listing the Best Gas Stoves in India that you cannot go wrong with. And, also compiled a detailed buyer's guide for you at the end.
Summary
⁃ ​Faber 65 cm Hob, 3 Burner, Auto Ignition Gas Stove​
⁃ ​iBELL 590GH Hob 4 Burner Top Gas Stove with Auto Ignition​
• Best Budget Buyers Gas Stove
⁃ ​Butterfly Smart Glass 3 Burner Gas Stove​
⁃ ​Pigeon by Stovekraft 2 Burner Gas Stove​
⁃ ​Lifelong LLGS118 Glass Manual Gas Stove​
⁃ ​Prestige IRIS LPG Gas Stove​
⁃ ​Elica Vetro Glass Top Gas Stove​
⁃ ​Sunshine Olympic Toughened Glass Gas Stove​
⁃ ​Sunflame GT Pride Glass Top Brass Burner Gas Stove​
Best Overall Gas Stove
Faber hob top has been crafted for efficiency and style. They are made of high-quality brass and come in small, medium and large sizes to cater to the kitchen's demands helping you cook, several different food items altogether, saving time giving you comfort in cooking light and heavy at the same time.

What's more is it keeps your kitchen safe from the danger of gas leaks, thanks to its anti-leak technology and high-performance burners, which gives you assurance of safety from fire. The combination of burners
Pros
High durability
Scratch resistances
Easy to clean
iBELL 4-Burner Glass Top Gas Stove comes with a long list of features that will surely make your life very smooth. This gas stove is built using the highest quality of raw materials. Every feature that it has is designed to add convenience to your entire cooking regime. What's impressive is its stands providing better balance and unique pan support to cook chapatis, dosas, pancakes and more with ease.

Pros
High heat resistant
Elegantly designed
360-degree revolving nozzle
Best Budget Buyers Gas Stove

This 3-burner gas stove can be the perfect option for your kitchen at an inexpensive price, making it one of the best-selling gas stoves. The butterfly gas stove knobs are uniquely designed and very easy to use. It also has pan supports that are specially built to protect the vessels from toppling over.

Pros
Spill-proof
360 degrees rotatable nozzle
Sufficient space between the burners
Pigeon Glass Top Gas Stove lets you cook your curries and sabzi's without worrying about greasy stains on the stove because of its spill-proof pan support and a removable stainless steel drip tray, making it very easy to clean and maintain regularly.

Pros
Easy to use
360 rotatable nozzles
Toughened Glass-Top
Best 2 Burner Gas Stoves
For reliable, simple, and healthy cooking, the Lifelong LLGS118 Glass Manual Gas Stove has a toughened Glass Layer and anti-Skid Feet. Most importantly, the burners on this gas stove are made of high-quality cast brass and are built to consistently distribute the flame so that your food cooks properly.

Pros
Durable and long-lasting
Comfortable knobs
Prevents gas leakage
For hassle-free cooking and a cleaner Kitchen, this Prestige gas stove is a great choice. It has a toughened black glass top design that helps you to avoid stains and scratches. In addition, the Tri-Pin Burners offers high efficiency and faster cooking helping you save time for yourself.

Pros
Looks attractive
Strong grip
Easy to handle and maintain
Best 3 Burners Gas Stoves
Elica Vetro Glass stove has two medium and one small burner to meet all of your cooking needs. Its toughened glass finish top provides a rust-resistant feel providing long-lasting efficiency and improving the stove's aesthetics while maintaining reliability and protection.

Pros
Smooth operatable knobs
Euro coated grip for good support
Glossy look
Using the Glen 1033 GT Cooktop to cook food makes things easier for you in the kitchen. It not only helps you save time in the kitchen but also gives you enough flexibility. The gas stove comes with extra strong pan support that ensures your vessel is firmly placed on the stove to give you a safe and comfortable cooking experience.

Pros
Rich matte stainless steel body and drip tray
Soft and smooth operating knobs
Easy to Use
Best 4 Burners Gas Stoves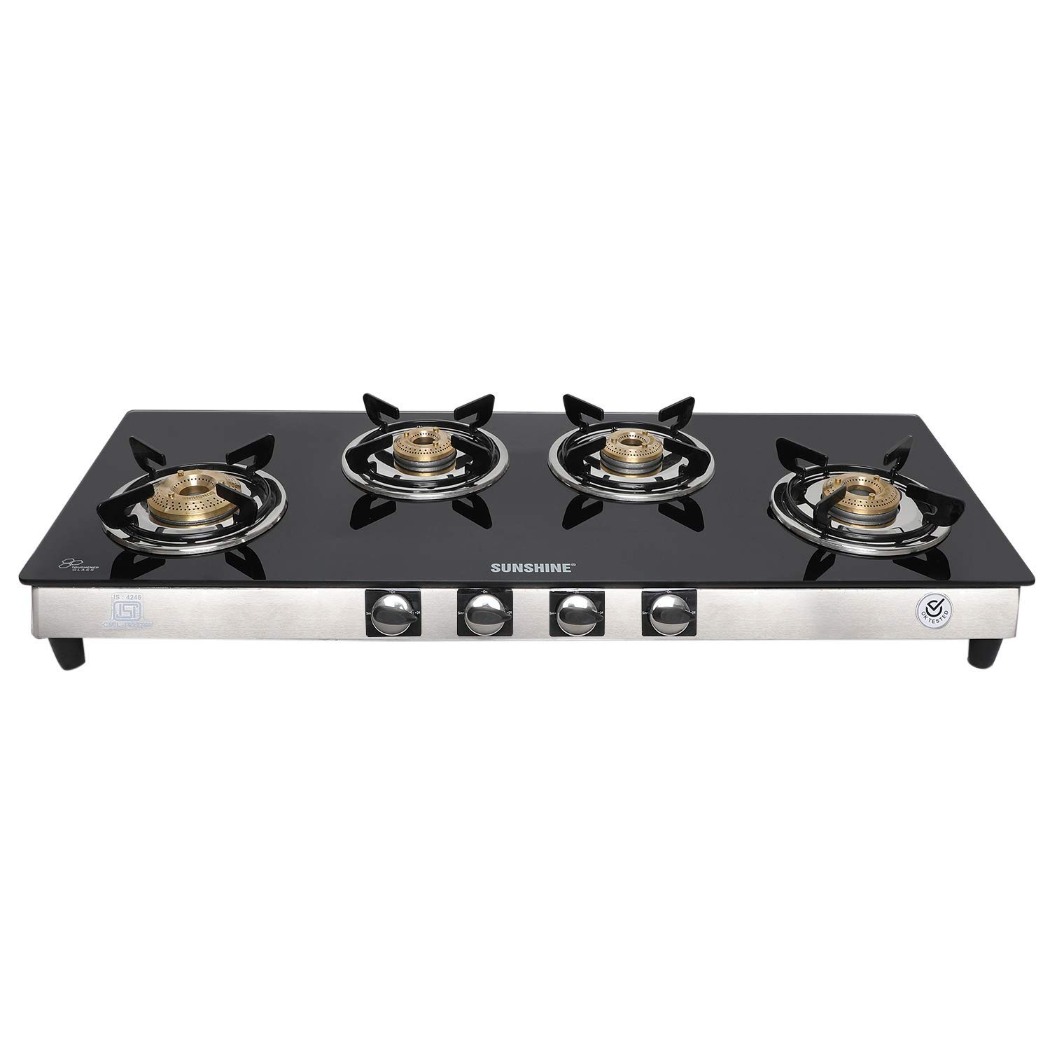 High on aesthetics and functionality, this is an awesome gas stove to consider. The smooth toughened glass top on its body constructed from heavy-duty stainless-steel packs enough glamour and style to enhance any contemporary kitchen décor. Fuel efficiency and high safety are other standout features of this gas stove.

Pros
Great value to money
Aesthetically appealing
Safe to use
Sunflame four-burner gas stove is ideal for any premium kitchen because of its elegant, smart, and stylish design with a premium glass finish top. The gas stove comes with a powder coating making it resistant against scratches, and wearing. Also, the brass burners are highly resistant to corrosion while ensuring even and faster cooking.
Pros
Highly efficient brass burners
Knobs are easy and quick to access
Spill-proof design
Gas Stove Buying Guide
Below listed are the factors that you need to consider before buying a gas stove
Number of burners
You should figure out the number of burners depending on the family size and how quickly you want to complete cooking for the day.
| | |
| --- | --- |
| Gas Stoves | Required for |
| 1 burner gas stoves | Individuals |
| 2 burner gas stoves | Small family member usually 2-3 |
| 3 burner gas stoves | Members in a family 4-5 |
| 4 burner gas stoves | Members in a family 5-6 |
Manual or Automatic
There are two types of ignition: manual and automatic. We've always used a lighter or a matchstick to light our gas stoves for years, whereas with electronic ignition systems, all you have to do is turn the knob to light the fuel. The automatic system eliminates the need for matchsticks, lighters, or some other external fire to light the stove, making it a much simpler and more convenient alternative.
Space between burners
Cooking gets difficult with no gap or minimal gap between the burners. Check the spacing between the burners and will the utensils you use can easily adjust over them. There should be enough gap between the burners so that you can use multiple utensils on the stovetop without any interruption
Design
Enough of those stainless-steel stoves. Today, to keep the aesthetics of stylish or modular kitchens, with a variety of stylishly designed gas stoves available, you can opt for something that has a stylish glass finish, glass countertop, and other modern features. Not only they add glamour to your kitchen but are also super convenient to use.
Budget
Quality gas stoves are available in wide price ranges. Thus, it's important to keep your budget in check when purchasing a gas stove. You don't want to settle for less, and you don't want to go over the top either.
Higher price tags mean more durable and quality materials used and more features whereas models that are in the low-price range will be decently functional, but with certain limitations on the number of burners, design availability and more.
Burner Material
Stoves can be made from different materials; they can either be made from stainless steel, aluminium brass, or metallic materials. The brass burner proves more expensive but is highly recommended as it is a better conductor of heat, and has more corrosion resistance. They thus are more durable than aluminium burners and in the long run, they prove cheaper.
ISI certificate
Choose a certified product if you want to be sure of its consistency and operation, opt for ISI products. ISI stands for Indian Quality Institute, which has been designated as a standard-setting organisation by the Bureau of Indian Standards (BIS).